Triangle and SHIFT host social enterprise roundtable committed to development of social enterprises in Lebanon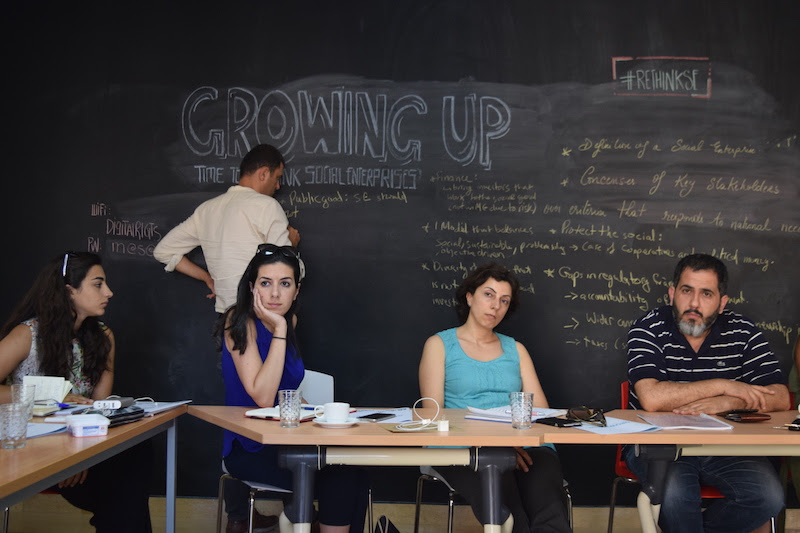 The roundtable built on Triangle's previous research on social enterprise development in order to start the process of building a coalition who work to remove obstacles facing social enterprise development in Lebanon. 
BEIRUT (Triangle News) — A coalition of public and private actors has begun the process of bolstering social enterprise development after a roundtable discussion hosted by Triangle and the SHIFT Initiative entitled "Growing Up | Time to Rethink Social Enterprises". Participants at the roundtable committed themselves to collaborative efforts to remove institutional, regulatory and structural issues impeding the growth and potential of social enterprises in Lebanon. Discussions we grounded in evidence produced by Triangle's recent research entitled "Social Enterprise Development in the Middle East and North Africa" and facilitated by the SHIFT Initiative.
"The meeting today proves that research and collaboration are effective tools which can be used to advocate for institutional reform, mindset change and progressive policy," said Sami Halabi, Director of Knowledge at Triangle and lead author of the study. "With this coalition, resources can now be pooled to address long-entrenched structural issues in the social enterprise arena which have long been viewed as overly complex and difficult."
Participants at the conference supported an integrated approach to tackling issues that social enterprises and entrepreneurs face, specifically those from marginalized communities who require social impact to be the most effective.
"By focusing on the access to entrepreneurship issue, we are getting out of the mindset that social enterprises are merely the domain of those who have access to resources and education," said Alaa Sayeg, Director of the SHIFT Initiative. "Lebanon has all the right elements to become the social enterprise hub of the region, and this is the start of the process where all of use working in the sector shift focus towards scaling up access and support in a strategic and targeted manner."
The roundtable concluded with participants agreeing to a set of priorities that the future coalition would work towards to enable wider social enterprise development in Lebanon. Action points included:
Create a Lebanese definition of the 'social enterprise' based on the consensus of key stakeholders.
Ensure that social enterprise development does not contribute to entrenching existing power structures which work against social progress.
Address gaps in the regulatory framework impeding marginalized communities from accessing entrepreneurship.
Develop social enterprise models that balance the need to scale with social progress as well as financial and environmental sustainability.
Promote diversity of investment for social enterprises, especially from non-traditional sources.
Move away from donor-driven agendas towards a productive intersection between public progress and social enterprise development.
Use solid criteria to decentralize support infrastructure away from the existing urban focus, while also ensuring that support organizations can widen their reach.
Participants also committed to continuing to meet across different fora to develop action point plans further and drive forward social enterprise development in Lebanon.