Monitoring & Evaluation of Community Challenges to Violent Extremism – Civil Society Capacity Building Initiative in Tunisia
In order to help counter violent extremism (CVE) at the community level, AMIDEAST is implementing a 2-year project funded by US Department of State, Bureau of Counterterrorism entitled BLADI (Building Local Associations for Development and Innovation). The project works on building the local capacity of local Tunisian CSOs who directly or indirectly work with individuals and communities who have experienced violent extremism and are vulnerable to sympathising or supporting extremism. The project is implemented in partnership with two local Tunisian organizations (Shanti and Jamaity) which possess significant local networks that work on empowering local youth and societies. The goal of this programme is to build the capacity of relevant local Tunisia CSOs through assessing their capacity, and providing them with technical assistance and follow-up coaching.
Accordingly, Triangle has been commissioned to conduct an assessment of the overall project and guide the process of evaluation during the implementation of sub grants and CSO projects.
The evaluation includes:
An assessment of the overall relevance, efficiency, effectiveness, impact and sustainability of the overall project.

An an evaluation of the roles and responsibilities of Jamaity, Shanti, and AMIDEAST and the efforts to build the capacity of CSOs and award sub-grants.

Support to Shanti in conducting evaluation activities as well as train development and pilot CSOs on Monitoring and Evaluation (M&E) activities using the Participatory Organisational Needs Assessment (PONAT) methodology.

Top-level analysis of M&E activities across the project implementation

A summative evaluation report which incorporates baseline and endline findings alongside actionable recommendations for possible future programming.
Project:
Monitoring & Evaluation of Community Challenges to Violent Extremism- Civil Society Capacity Building Initiative in Tunisia
Location: Tunisia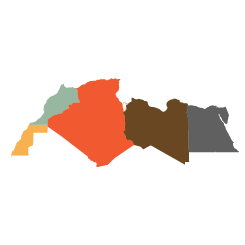 Service type:
Qualitative Research, Quantitative Research,
Capacity Building and Training