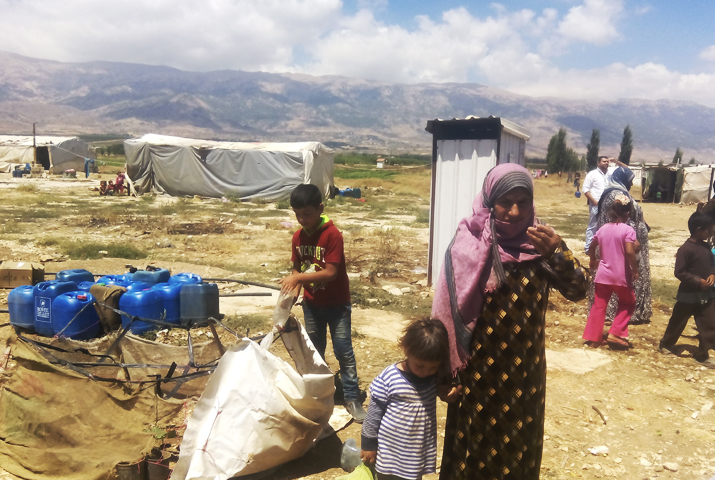 Socioeconomic feasibility study completed on water provision to Syrian refugee and Lebanese households
Oxfam GB and Triangle have completed a study on the socioeconomic feasibility of provision of municipal water to refugees in informal tented settlements as well as the host community residents of the Northern Bekaa region.
November 15, 2016
BEIRUT (Triangle News) —Triangle has completed a feasibility study into the provision of municipal water resources to residents and refugees in informal settlements across nine villages of the Northern Bekaa. The study is an in-depth look into the dynamics and attitudes surrounding water provision in an area, which is beset with a multitude of issues including upstream cultivation of relative water-heavy cannabis crops, dilapidated infrastructure, increasing demand from refugee populations and costly provision of water from unofficial water from water tankers.
The study is the first to measure demand, supply, costs and willingness to pay using a representative quantitative survey as well as nuanced qualitative data collection methods. Oxfam GB commissioned Triangle to conduct the study in order to consider the financial, social and legal feasibility of how consensus around water provision to informal tented refugee settlements could be developed.
"What we find in this study is a need to put the horse before the cart: It will not be possible to provide refugees with sustainable solutions to meet their basic needs without first resolving the issues Lebanese have faced with regard to public services such as water since the end of the civil war," said Nizar Ghanem, Director of Research at Triangle and Team Leader on the project. "Without an acceptance of that principle by donors, agencies and the governments dealing with the refugee crisis, the majority of interventions will remain piecemeal while the crisis will likely deepen and affect the security and stability of nations such as Lebanon."
Photo Credit: Paul Cochrane
Link to the Report
For more information on the project email Triangle: info@triangleconsultants.net.