Triangle founders screen acclaimed documentary on the political economy of water in Lebanon: We Made Every Living Thing from Water
Triangle's founders have written, produced and directed a documentary film on environmental degradation and water resources in Lebanon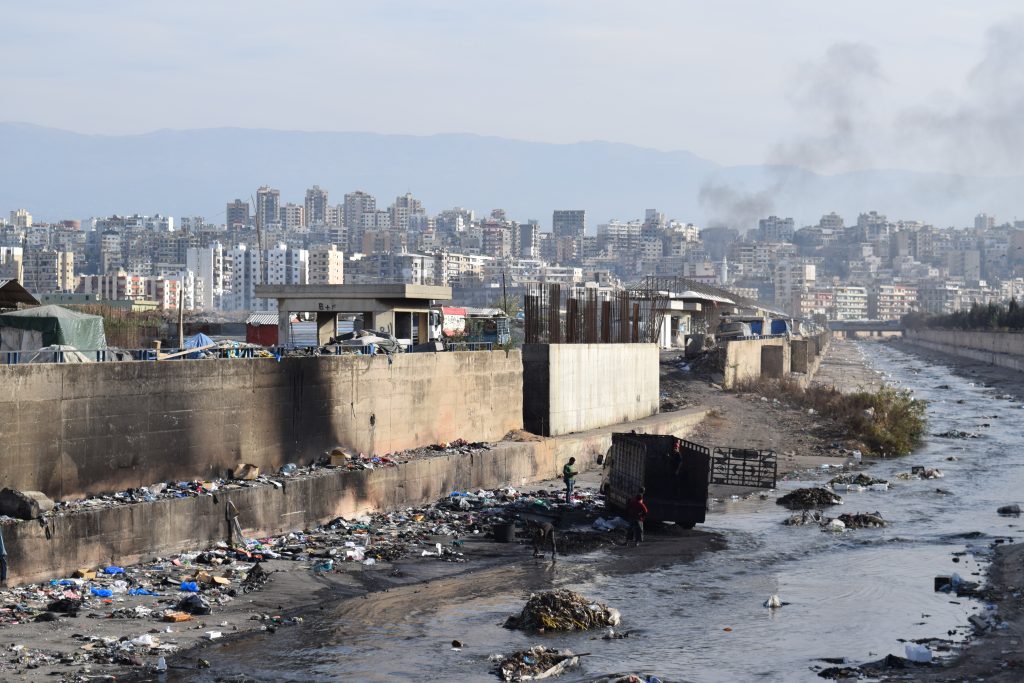 Haphazard rubbish dumping contaminates the Abu Ali River in Tripoli, Lebanon.
© Triangle / Paul Cochrane
BEIRUT (Triangle news) – Triangle founders Paul Cochrane and Dr. Karim Eid-Sabbagh have screened their 40-minute documentary on the political economy of water in Lebanon entitled 'We Made Every Living Thing from Water' (وجعلنا من الماء كل شيء حي).
Directed by Cochrane and Eid-Sabbagh, the documentary reveals the dangerous impact of environmental degradation on Lebanon's water resources and documents mounting public discontent in the face of pervasive disregard for ecological concerns.
Filmed in the wake of the July 2015 rubbish crisis and based on doctoral research by Dr. Eid-Sabbagh, We Made Every Living Thing from Water explains how politics, sectarianism, development priorities and structural economics result in the current management, and mismanagement, of Lebanon's water resources.
The film's soft opening took place at the Issam Fares Institute (IFI) at the American University of Beirut in late February, in conjunction with AUB's Faculty of Health Sciences and the Red Oak Club. The documentary has also been screened at the American University of Cairo, the University of Liverpool, the London School of Economics (LSE), the Ecole Nationale d'Agriculture de Meknès in Morocco, and at smaller gatherings in Lebanon, including at the Beirut Digital District and at Beirut Design Week.
We Made Every Living Thing from Water has already received widespread acclaim from journalists, academics, development experts and water resource experts alike.
'I really enjoyed it. It's a really excellent piece of reporting.' – Laura Gane, Editorial Director of the Frontline Club in London.
'The only good film about water in Lebanon.' – Dr Mark Zeitoun, Water Security, at the University of East Anglia.
'A frightening vision for the future – if the government's approach to water and environmental management does not improve, very substantially.' – Peter Newborne, Research Associate at the UK's Overseas Development Institute (ODI).
'A courageous and interesting documentary.' – Claire Papin-Stammose, LEWAP – Programme Solidarite Eau.
We Made Every Living Thing from Water will premiere as the opening film at the Beirut Art Film Festival (BAFF) on 20-25 November 2018. As part of the festival, the documentary will be screened at 3,000 private and public schools, and at 16 university campuses.
The documentary was supported by the American University of Beirut (AUB) and the International Development Research Centre (IDRC).
Watch the trailer
Read press coverage in the Daily Star (EN) and L'Orient-Le Jour (FR)
For more information on the documentary contact: info@thinktriangle.net
We Made Every Living Thing from Water
Duration: 40 minutes
Languages: English and Arabic (w/subtitles)
Written and Directed by Paul Cochrane and Karim Eid-Sabbagh(Beirut, Lebanon)
Filmed by Alain Ginoux and Paul Cochrane
Produced by Karim Eid-Sabbagh
Funded by the American University of Beirut and the International Development Research Centre
A Triangle Production