Triangle Completes Regulatory Reform Training in Egypt
A team of trainers from Triangle has delivered a comprehensive training programme to senior civil servants on regulatory impact assessment and reform in Egypt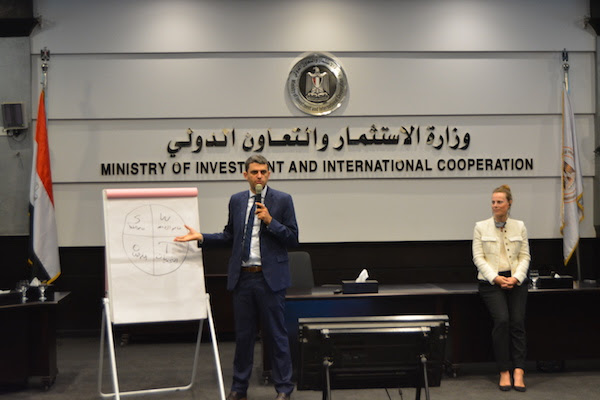 Triangle's Director of Knowledge Nizar Ghanem (L) delivers a training session alongside Denise Sumpf, Officer-in-Charge / First Economic Affairs Officer, Economic Governance and Planning Section Economic Development and Integration Division (R). © Triangle
CAIRO (Triangle News) — Triangle's team of training experts recently concluded a training programme on regulatory reform in Egypt, a project lead by Economic Governance and Planning Section in the United Nations Economic and Social Commission for Western Asia (UNESCWA) and requested by the General Authority for Investments in Cairo, Egypt. The workshop was part of UNESCWA's efforts to support the Government of Egypt in their efforts to integrate best practices of national development planning towards achievement of the Sustainable Development Goals.
Triangle's local and international trainers provided participants with sessions on best practices in regulatory analysis as well as key concepts in regulatory reform. The training course methodology was guided by the Organization for Economic Co-operation and Development's (OECD) Recommendation of the Council of the OECD on Regulatory Policy and Governance as well as OECD Framework for Regulatory Policy Evaluation. Sources and pertinent information employed during the training workshop were extracted from relevant ministries, international development agencies and academic institutions. For effective facilitation, training tools such as specific case studies, presentations and diagrams were integrated into the five-day programme. Accordingly, training sessions covered: Regulatory Impact Analysis (RIA), administrative simplification, institutional governance, legislative landscapes in national contexts, key stakeholder mapping, regulatory reform strategies, the public policy cycle, as well as monitoring and (impact) evaluation of regulatory reforms.
"The workshop offered us all the unique opportunity to consider the multifaceted dimensions of Egypt's regulatory regime and how we can take the necessary steps towards building a regulatory framework for investment," said Triangle's Director of Research Nizar Ghanem. "What needs to happen now is a focus on developing a clear prioritization exercise to define specific sectors that require consolidation and reform. Then on that basis, work towards the development of a strategic regulatory reform plan supported by tailored capacity-building."
The workshop was very well received by its participants, with 95% of stating that workshop sessions and content was relevant to the practical environment of their work. Similarly, another 89% of participants felt the workshop and its sessions were well organized and structured.
The training programme was created as a response to a request for technical assistance by the Egyptian Ministry of Investment and International Cooperation. In turn, UNESCWA commissioned Triangle's to conduct the workshop which took place from August 26 – 30th 2018.
About Triangle: 
Triangle aims to bridge the divide between policy making, empirical research and the media to produce lasting results for clients, a rewarding environment for its team, and positively impact the communities where Triangle operates. Through this approach, Triangle works with its clients to produce the knowledge they require to fulfil their immediate goals, then leverage their newly acquired know-how across Triangle's three focus areas. In doing so, Triangle and its clients strive to close the gap between policy, research and media by integrating empirical inquiry with effective communications, developing evidence-based solutions for the organisations in the public and private spheres.
About UNESCWA:
One of five United Nations regional commissions, ESCWA provides a presence for the UN Economic and Social Council in the Arab region. Its mandate is to support inclusive and sustainable development in its 18 member States (Bahrain, Egypt, Iraq, Jordan, Kuwait, Lebanon, Libya, Morocco, Oman, Palestine, Qatar, Saudi Arabia, the Sudan, the Syrian Arab Republic, Tunisia, the United Arab Emirates and Yemen), advance regional integration and provide advocacy for the region's needs and concerns on the global stage. Through research and analysis, ESCWA links knowledge on economic and social issues to policy. It brings together policymakers, researchers, experts and other stakeholders in intergovernmental and expert group meetings in the pursuit of constructive dialogue and concerted action.